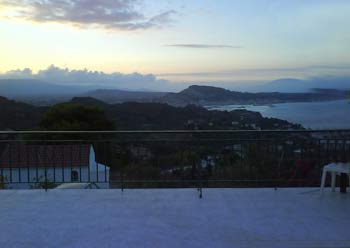 The owners are happy to assist with any requirements in advance of your arrival, also taxi transfers to and from the airport can be pre-arranged
Accessibility of local amenities from 'Argassi Heights' Apartments.
From apartments to nearest shops, bars, pools and sea
15 minutes slow walk downhill
By car – 2 minutes to Argassi. Car hire is recommended.
Taxis are readily available day and night in Argassi – 2 minutes to apartments
Nearest Taverna – Target Bar - 5 minutes downhill. With panoramic views, Greek themed evenings, friendly owners plus excellent food, this is a great venue, but particularly to watch the sunset before returning to the apartments. The
The Target Bar provides a free bus from Argassi for customers and will transport residents, if requested, back to the 'Argassi Heights' apartments
Accessibility of other areas and amenities from Argassi
Zante Airport - 15 minutes.
Zante Town – 15 minutes, (tourist train/bus, 10 minutes (car/ taxi ).
From Zante Town there are frequent buses to other areas e.g. Kalamaki, Tsilivi. (journey time 20 minutes).
There is a free daily bus from Argassi to St Nicholas Beach (white sand, scuba- diving and water sports).
There is a Water Park just outside of Zante Town and horse riding stables – 15minutes from Argassi.
Email - Or Phone
Or Phone: Argassi Heights number - in Greece -
(0030) 698214297
.
Prices
Our prices re rental of the two 2-bed apartments (based on two people sharing) are:
Depending on season -
Please enquire - owners understanding and felixible.
All prices are subject to change, and negotiation re occupation status
It is possible to book excursions and boat trips from several locations in Argassi, also car, scooter and quad bike hire is easily available.